Description
 PROFESSIONAL PRICING AVAILABLE< CONTACT STORE
• Removable water chamber has further built in foam core for smooth movement • Cluster fibre, bounces back faster, lighter, cooler, more resilient • High quality cotton fiber cover • Many options for adjustment to suit your changing needs • Queen size 26" w X 18" h – 2 lbs. / 66 cm. w x 46 cm. h – 850 grams
Solitude Water Pillow
Water pillows have been proven to provide better neck support and to help you fall asleep faster and provide deeper restful sleep.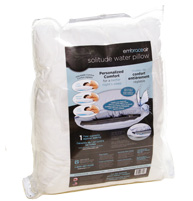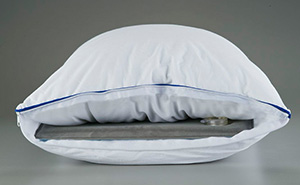 Solitude has removable water chamber in middle of the pillow. This design is for those who want maximum options
In the middle of the Solitude is the water chamber. You will notice the thickness of the pillow above and below the water chamber is different. This provides you with more options for the amount of cushion you have between you and the water chamber. Some want it closer for firmer support, some want it further away for a more muted effect. You can adjust the amount of water & the amount of cushion.
What's inside?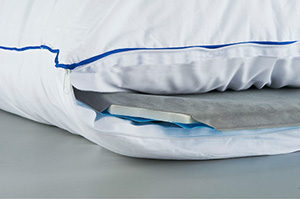 Inside the water chamber is an additional layer of foam which softens the movement of the water so it responds directly but gently to you.. it moves like a gel.
There are two side to the Water chamber, the brush side sticks to the pillow cotton holding it in place and the smooth side helps with removing/replacing it should you want to adjust the water amount.
Solitude can be laundered. Simply remove the bladder and put it in your normal washer and dryer.
Down Proof cotton. Thread count is good but does anybody ask "How thick is the thread?" What ultimately matters is the tightness of the weave. "DOWN PROOF" means if there were feathers inside they would not be able to poke through. Nothing gets out but also nothing gets in.
Removable Bladder. Easier to use, clean separately and microwavable for those cool nights.
Different amounts of fiber in each side allows for another level of adjustment. With this you can decide if you want a softer top, firmer bottom or visa versa.
No metal liners. Solitudes' design eliminates the need for any metal reflective material. Insulation is achieved by the superior fiber cushions.
Assembled and inspected in Canada.